It's been awhile since my last update, but I promise I've been hard at work this whole time! I recently finished up all the environments for the game, which was the single biggest chunk of work in the development process. Rather than just posting up some screenshots, I've made a video showing the party running through them all since they look much more interesting in motion. Check it out:
The last of the gameplay that needs to be added is the special abilities and attacks for the party and enemies, which I just started on yesterday. After that it's just the menus, sound FX, then a ton of polish and optimization. I'm hoping to get all the specials in by mid-October so I can submit both Dungeon Hearts and TIMESCALE to the Independent Games Festival this year. Wish me luck!
Last week I decided to take a short break from Dungeon Hearts to participate in the 7-day FPS Challenge. It was a breath of fresh air to work on something completely different for a week and improve my rapid prototyping skills. The result is TIMESCALE: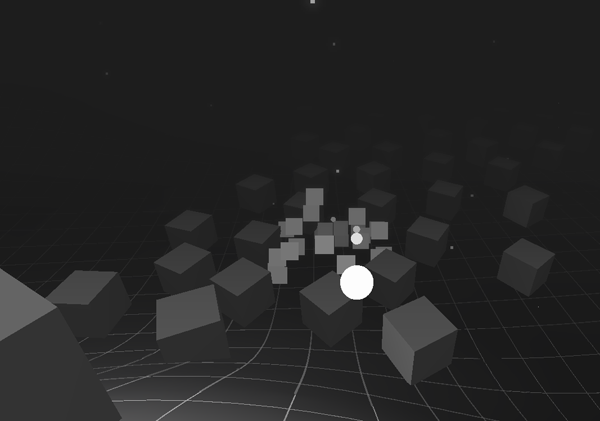 When designing or prototyping, I like to come up with a few phrases or concepts to build the game around to help keep things focused. For TIMESCALE they were:
- "Hero's last stand" I like the idea of being completely surrounded and alone in enemy territory, trying to take out as many as you can in a blaze of glory before being overwhelmed.
- "Time only moves when you do" The thing that sucks about being surrounded is that you can't see what's behind you so it's over pretty quickly. But if time stops when the player isn't moving, they can look around quickly, take stock of the situation and plan accordingly. While testing the time-stopping system, I found out it was more fun if time slows down, but doesn't stop completely, which keeps some pressure on the player to keep moving around. And having everything moving around the player slowly feels a lot more cinematic than if they just stop in place.
- "Glass cannon" I wanted the player to feel like pretty powerful compared to the cubes, but with the drawback that they can only take 1 hit. It feels good to take out swathes of enemies and narrowly escape hairy situations. To help warn the player that things are coming up behind them to give them a chance to react/escape, the fog turns slightly red when an enemy is close to warn the player.
On the Dungeon Hearts front, I recently found someone to handle the sound effects, which is the last part of the game to not have any real work done on it. Once they start coming in, they'll add a satisfying sense of weight to the combat and puzzle interactions.
I'm also halfway through one of the early-game environments, come back next week to see the completed version!
<3
Not much to report this week, I've just been pushing along on the environments. Here's one I just finished:
It looks much better in motion with the snow streaking across the screen and the clouds whizzing by in the background.
Five more environments to go! I'm looking forward to getting these done since they are probably the biggest (as in most time-consuming to create) single task in the development process. There are other big tasks to tackle (menus, FX, etc) but they are all much smaller relative to the environments.
Man, it's been quite a week! If you haven't seen any of the news, this was the week Devolver Digital announced that they picked Dungeon Hearts as the winner of their "Pitch Fork Parker" initiative. We've been working together for a while now, so it was great to finally announce it and be able to talk about it. Ben Kuchera of Penny Arcade was there during the pitch process, and wrote about it as well.
Here is Devolver Digital's official announcement.
The news also showed up in some other places, such as Destructoid, Touch Arcade, and Joystiq. It's been a weird experience seeing complete strangers commenting on the game for the first time. Luckily it's been overwhelmingly positive! Being a match-3 RPG I was afraid there would be a lot of comparisons to Puzzle Quest, but it seems people could see right away that they are vastly different in terms of style and gameplay.
On the development side I've been chipping away at the environments. I've got a good system down where each week I get one background half-way done, and complete the one I started the week before. For me this is better than just doing one whole environment each week, because when I get bored of working on one, I can set it aside and work on the other. Here's the completed version of the lava tubes I showed in the last post: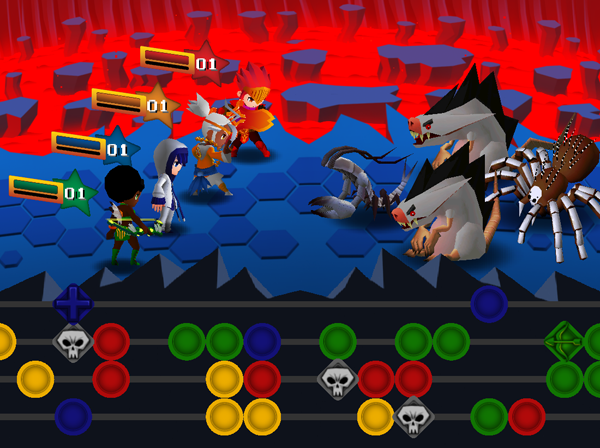 And here is one that I just finished up yesterday: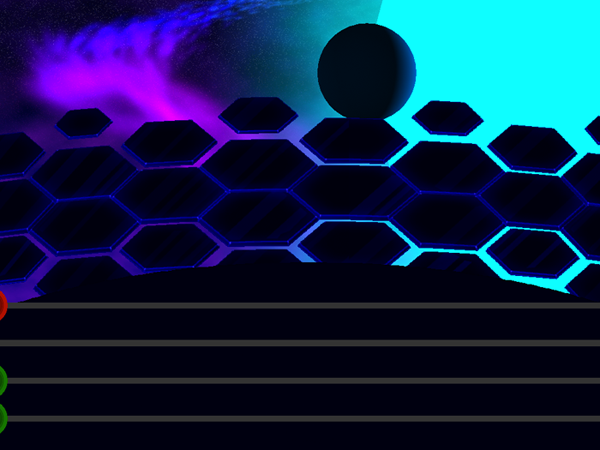 I'm currently working on a snowy mountain pass, and I'll be starting on some rolling fields this week. One of my animators just sent me a bunch of enemy characters that she's just completed, so I'm about to go check them out. Have a great week!
<3
It's been awhile since I've updated! I'm still pushing on, making steady progress. Here's some pretty pictures:
First, the completed title treatment: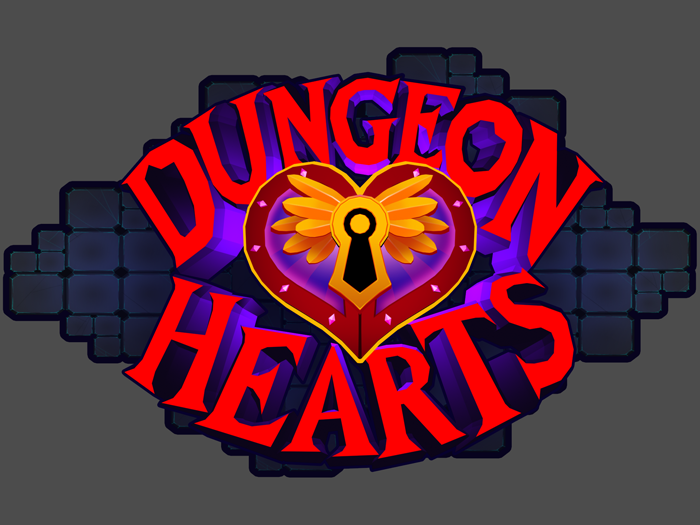 Also got a HUD working:
And started working on a new environment: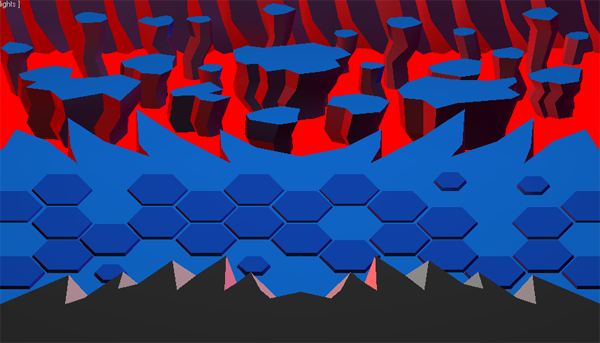 I also recently got quoted in an article by Ben Kuchera of the Penny Arcade Report about pitching games to a publisher at GDC: Get on the bus: Devolver Digital's innovative strategy for finding new talent at GDC
Just a quick update today because I'm out of town for the weekend. I got all the enemies set up for animating, and exported them into the game as unanimated placeholders (looks cooler than cubes and spheres). Hopefully they'll be off to the animators this week. The other big thing I did this was implement the system that randomizes the game each time you play. So there will be different enemies and groups of enemies each run. The backgrounds change as the player progresses, and that randomization is going as well. I'm thinking that in the Main Menu, the background displayed will always be set to the background that the player last died on (or the end of the game). The environments get darker as the player advances, so it could be a fun motivator. I need to start on more environment content soon, which is probably the most time-consuming thing that needs to be done for the whole game.
This week I finished up the last few characters, which I've been looking forward to doing for a while.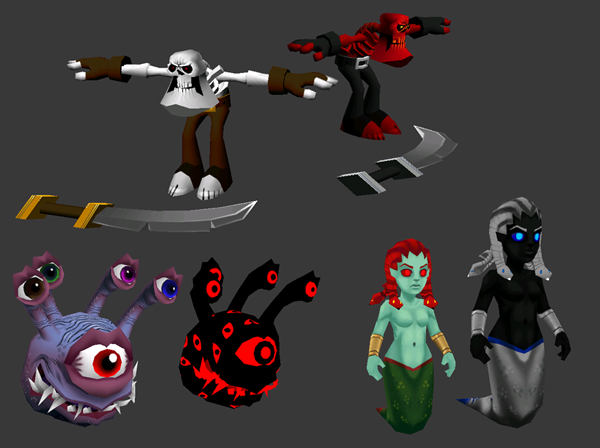 I also laid out the progression of when each enemy is encountered. Environments are the next big time sink, although I'm going to take some time to add the UI and other small enhancements to the gameplay.
Last week I mostly spent working on creating enemy characters, which you can see below: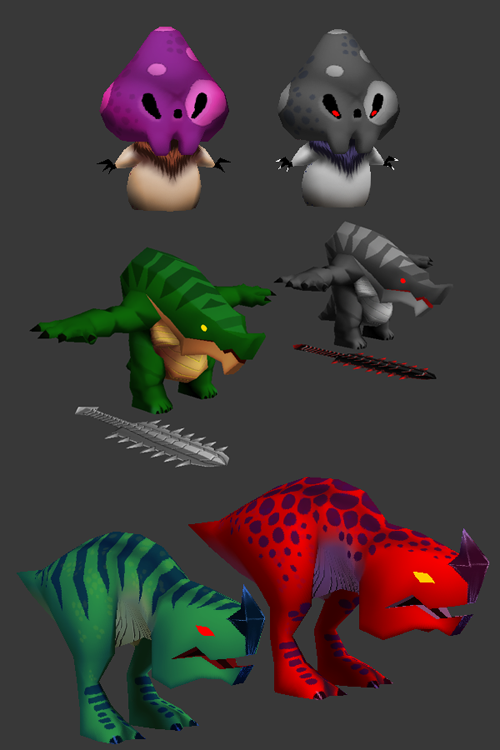 I also got this awesome track in for the heavy metal version of the soundtrack:
My goal for this week is to finish up the last 3 enemies so all the characters in the game will be ready to be sent to the animator.
I made plenty of progress toward my current goal of getting all the characters in the game created and ready for animation. There are 6 characters left, and all 6 have been modeled, unwrapped, and are in various stages of texturing. Here's a Plump Helmet (catch the reference??), who is almost complete:
In other news I implemented a first pass of the main menu, and received a work in progress version of the first heavy-metal battle track. Even at this early stage it's 4 minutes of pure win, I can't wait for it to be completed so I can upload it for everyone to hear!
I'm hoping to get 2-3 characters done this week, and finish up the remaining next week.
Progress update!
I'm working primarily on the enemies now, trying to get them all modeled, textured, and ready for animation. Here's a shot of a few characters in the works: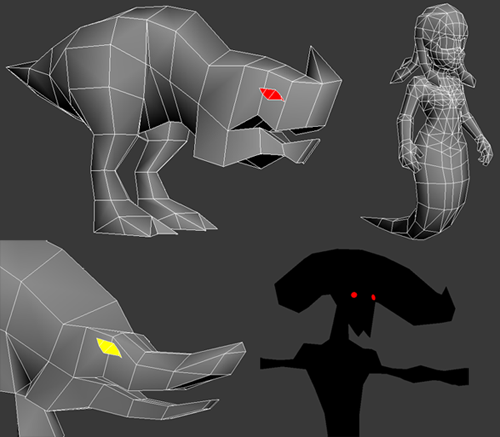 There are a few others in progress as well. In fact, there are only 2 enemies that haven't been started at all. When I tallied them up last night I thought it was going to be a lot more than that, so I was happily surprised.
On the music front, here's a rad boss track from Sam English:
I'm aiming to have all the remaining enemies modeled by the end of next week, then start on unwrapping and texturing.