Last week I decided to take a short break from Dungeon Hearts to participate in the 7-day FPS Challenge. It was a breath of fresh air to work on something completely different for a week and improve my rapid prototyping skills. The result is TIMESCALE: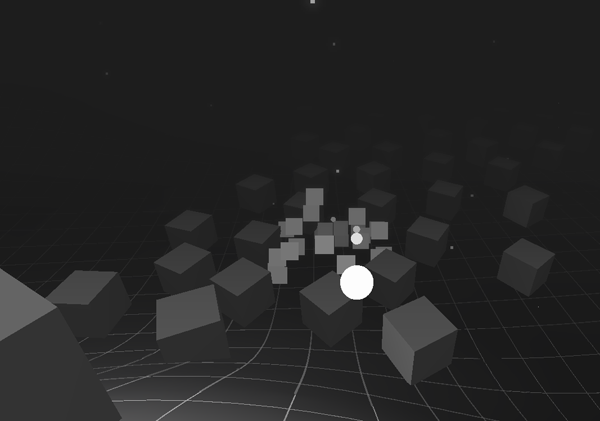 When designing or prototyping, I like to come up with a few phrases or concepts to build the game around to help keep things focused. For TIMESCALE they were:
- "Hero's last stand" I like the idea of being completely surrounded and alone in enemy territory, trying to take out as many as you can in a blaze of glory before being overwhelmed.
- "Time only moves when you do" The thing that sucks about being surrounded is that you can't see what's behind you so it's over pretty quickly. But if time stops when the player isn't moving, they can look around quickly, take stock of the situation and plan accordingly. While testing the time-stopping system, I found out it was more fun if time slows down, but doesn't stop completely, which keeps some pressure on the player to keep moving around. And having everything moving around the player slowly feels a lot more cinematic than if they just stop in place.
- "Glass cannon" I wanted the player to feel like pretty powerful compared to the cubes, but with the drawback that they can only take 1 hit. It feels good to take out swathes of enemies and narrowly escape hairy situations. To help warn the player that things are coming up behind them to give them a chance to react/escape, the fog turns slightly red when an enemy is close to warn the player.
On the Dungeon Hearts front, I recently found someone to handle the sound effects, which is the last part of the game to not have any real work done on it. Once they start coming in, they'll add a satisfying sense of weight to the combat and puzzle interactions.
I'm also halfway through one of the early-game environments, come back next week to see the completed version!
<3
Not much to report this week, I've just been pushing along on the environments. Here's one I just finished:
It looks much better in motion with the snow streaking across the screen and the clouds whizzing by in the background.
Five more environments to go! I'm looking forward to getting these done since they are probably the biggest (as in most time-consuming to create) single task in the development process. There are other big tasks to tackle (menus, FX, etc) but they are all much smaller relative to the environments.